This is the second in a series of blog posts providing practical advice on how to plan, grow and market a professional website, built to generate direct bookings for your business. This content series is a collaboration with Springnest, NightsBridge's website solution partner. You can read the first part covering Pricing and Platforms here.
Your website plays a long-term and more integrated role in your marketing. It is your most important source of direct bookings, which requires nurturing throughout every booking season.
It's worth mentioning that your website differs greatly from being on listing sites and online travel agencies (OTAs). On a listing site, yes, you gain exposure. However, your property is also just one of the thousands of options available to travellers. Your website is your unique opportunity to build a first impression, showcase what makes your property and location a go-to destination, and drive direct bookings.
In Part 2 of our content series, we help you understand how visitors use your website and how you can build a first impression that turns lookers into bookers, with these 3 guidelines:
1. Create a lasting first impression:
The first impression of your website is what sets you apart from your competitors, so you must make a good one. Did you know that you only have 50 milliseconds to make a good first impression? With this in mind, the key is to capture immediate attention and clearly communicate what makes your property unique and what sets you apart from your competitors.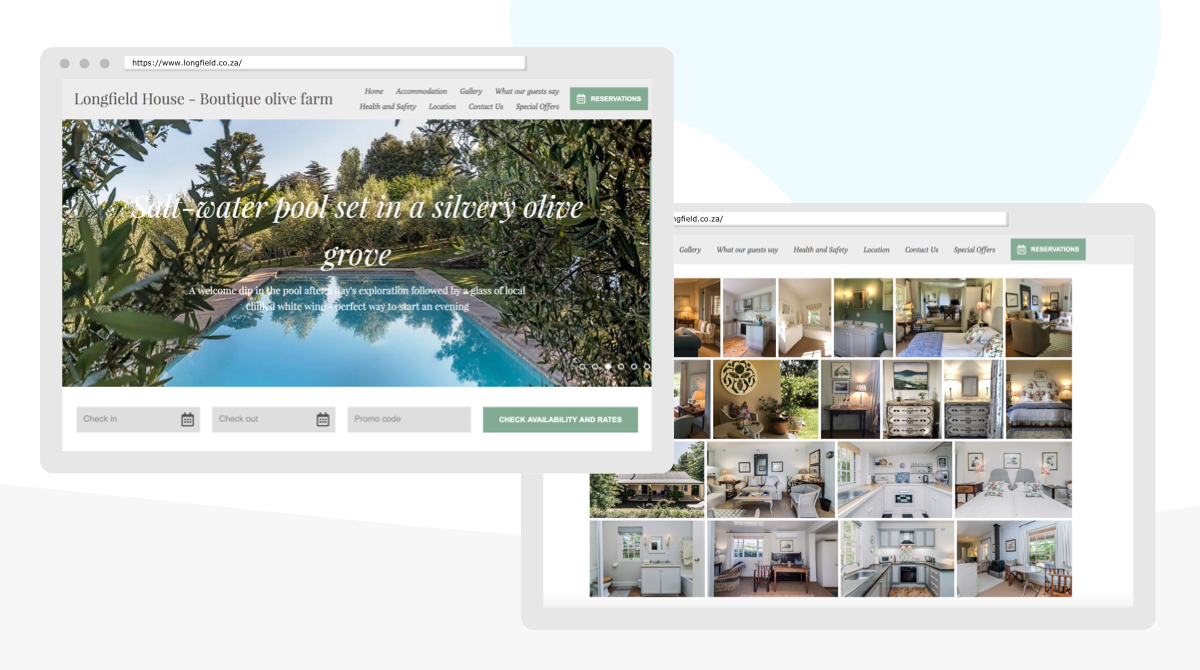 How can you improve your website's first impression?

a
Invest in high-quality images by hiring a professional photographer.


.


The first set of images you see on your website is the homepage banner (also called the "hero section" of your website). We recommend using high-quality images that are the best representation of what can be experienced at your property and the surrounding location. The investment in professional photography is an effective use of your marketing budget and has many benefits; it can be extremely useful across all your marketing efforts like having high-quality images for creating social media content, and email marketing. Interested in sourcing a photographer? Contact NightsBridge's recommended photography partner Virtual Media here.


.

Check that the information on your website is up-to-date and easy to find.


.


A well-informed website visitor is more likely to turn into a guest. Contact information, location details, booking button links, and room types are all key details that should always be checked and kept up to date. Cross-check this information on your NightsBridge booking platform too, so that you deliver consistent information.


.

Think of the questions inquisitive website visitors might ask themselves, as soon as they land on your website.


.


It's not enough to just say how many guests your property can sleep and whether you offer breakfast. Your website should highlight the unique selling points of your property and the benefits of staying in this particular location/area. Guests book a leisure or business trip to experience what your property has to offer, but also how the surrounding area can add to their trip experience. Once you've gathered the questions, use individual pages for these answers. For example, a dedicated "things to do" page, or leverage your blog for articles that give website visitors a reason to explore the area; by writing blog articles about "5 best family-friendly activities that won't break your holiday budget" or "3 co-working spaces in the area with the best coffee."
2. Persuade visitors to book directly using special offers and promotions:
Now that you've made a good first impression, it's time to turn your attention to crafting a special offer or promotion that can only be booked through your website. It's no secret that your website visitor has done some research before arriving on your website, so it's important to stay top of mind while website visitors are in their research process. Creating a special offer or promotion specifically for direct bookings is one of the best ways to convert lookers into bookers.

How can you improve your special offers or promotions?

a
Is your special offer or promotion something that is valuable enough to the guests you are targeting?


.


Think about what would appeal more to your guests while also considering seasonality. You can consider offering a monetary discount (eg. 10% off your booking) or you can offer a value-ad (eg. late check-out, free breakfast). Clearly communicate that the special offer or promotion is offered only when booking directly through your website. Once the special offer is displayed on your website, take it one step further and set the offer up in NightsBridge too.


.

Is your special offer text persuasive enough to drive bookings?


.


You don't have to be the perfect creative wordsmith, but spending an extra few minutes on showcasing what is included in the offer sweetens the deal. If someone says "this gelato is delicious" you might be convinced it is. However, if someone says "the flavour profile of this gelato will transport you to a summer's day in Naples, Italy", this will most likely positively influence your decision-making process. Need some guidance on how to approach your special offer copy? You can check out a few tips on writing persuasive copy here.


.

Does your special offer include high-quality images?


.


Recapping that using high-quality images that are the best representation of the overall experience can nudge a website visitor in the right direction. You can also use this as an opportunity to include more specific images that relate to the offer (eg. using more images of your free breakfast offer, or including pictures of outdoor activities if you are offering a voucher for a specific outdoor activity).
3. Become a pro with Pop-ups:
A pop-up is a tool used to capture a visitor's attention and prompt them to enter their information or take action. Once you've created your offer, enabling a pop-up can capture your visitor's attention or effectively communicate your offers.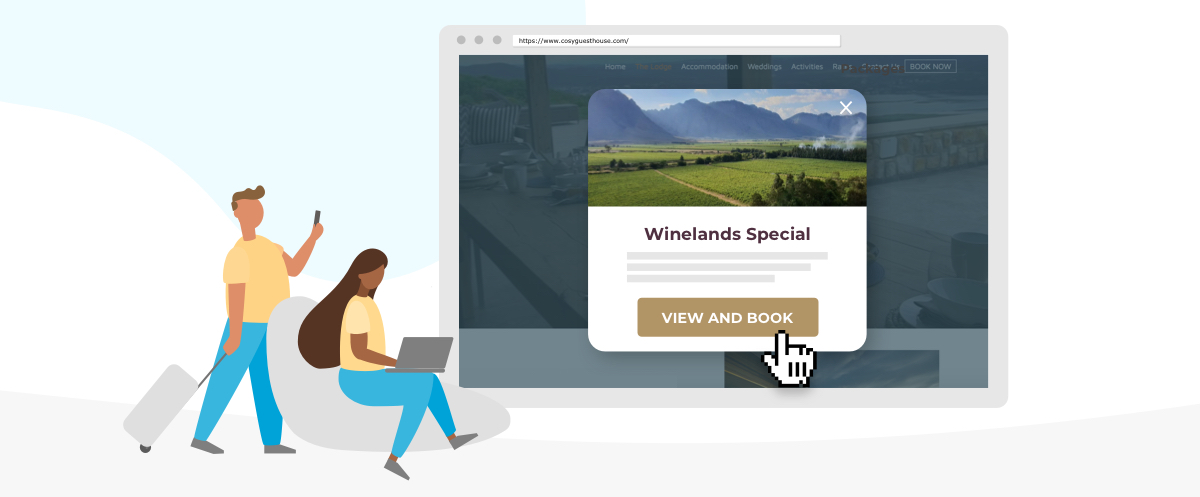 Springnest allows you to easily enable a Pop-up on your website, without the need for any technical knowledge or capabilities, learn more about this feature here.
How can you ensure your Pop-up is effective and not intrusive?

a
Know your intent.


.


Pop-ups are used to either inform visitors, increase booking conversion or build relationships. For example, the intention of promoting an offer or promotion would be to increase direct booking conversion. So when considering adding a pop-up to your website, if what you intend on adding falls into any of the 3 categories, you're in a good space for adding an effective piece of content to the website.


.

Keep it short.


.


Be mindful of the overall purpose of the pop-up and the space that it occupies. In most cases, the purpose of the pop-up is not to fill a page's worth of information into a condensed view – it's about grabbing the visitor's attention, delivering your message, and adding a clear call-to-action (eg. book this offer) so that the website visitor can find out more or take action.


.

Stick to the basics.


.


The nature of a pop-up is something that grabs attention immediately. Avoid using unnecessary punctuation (eg. excessive exclamation points, ellipsis, or mixed capitalisation) in an attempt to force a website visitor into action. Sticking to basic grammar and formatting ensures the pop-up communicates your intention to either inform visitors, increase booking conversion or build relationships effectively.
To recap, your website is the most important source of direct bookings for your business and requires nurturing throughout every booking season. Being intentional with your website will allow you to be more competitive in your market and location. Take the time to understand how your website visitors use your website and optimise your website for direct booking conversions using these 3 guidelines, and you'll build confidence in your online marketing capabilities and gradually start to see how these techniques and tools play a role in competing for bookings.
Next in the series:
In the third part of our blog series we'll cover how Live Chat and Messaging features can benefit you, and your visitors.