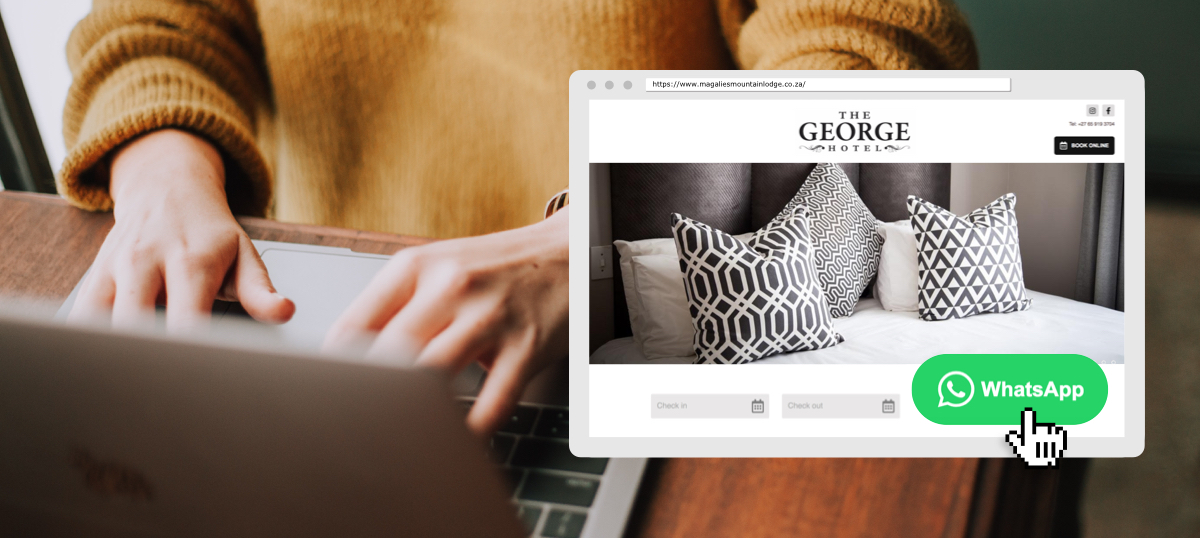 This is the third in a series of blog posts providing practical advice on how to plan, grow and market a professional website, built to generate direct bookings for your business. This content series is a collaboration with Springnest, NightsBridge's website solution partner. You can read the second part which covers Turning lookers into bookers here.
Imagine browsing an online store with a pair of shoes in your shopping cart. Just before you check out you realise that you haven't seen the return policy of the item anywhere. You search for a FAQ page to answer your question, but can't find that either. At this stage you'll most likely rather close the tab and abandon your cart than run the risk of not being able to return the shoes if they don't fit.
Will you come back? Not likely.
A similar scenario happens when guests research and book accommodation on your property's website. There are many factors that influence booking decisions, and sometimes the simplest of answers could mean the difference between a confirmed or lost reservation.
Instant Messaging and Live Chat can help solve this by sharing instant answers to your website's visitors or offering you a way to stay in touch with them, even if you're not available to respond 24/7 (very few properties are).
There are dozens of messaging and chat tools on the market today, each with its own advantages, drawbacks, and costs. In this article, we list some options to consider, look at the advantages of using them, and offer direction on how to get started.
Instant Messaging, Live chat, Chatbots – what's the difference, and which one is right for my property?
Instant Messaging.
What is it? A simple way for your website visitors to send you a direct message, which you respond to based on your availability.
Example: WhatsApp
A good option if you're a small B&B or guest house, and already use WhatsApp. NightsBridge properties already have an option to use WhatsApp to send guests links to complete their registration, check-in and check-out online. Read more here.
Keep in mind: Adding a WhatsApp Chat button to your website will send your visitors away from your website, to the WhatsApp App on their phone or device.
Live chat.
What is it? A conversation between you and a website visitor in real-time. This requires both you and the visitor to be available at the same time.
Examples: Facebook Messenger or chat services like Olark or Tawk.to
A good option if you have a full-time receptionist or reservationist.
Chatbots.
What is it? An instant way to share information with website visitors, when you're not around to assist. You can think of this as an intelligent FAQ feature.
Example: Facebook Messenger
A good option if you want to offer your website visitors quick and easy answers, with the option to send you an instant message.
Benefits of adding Instant Messaging or Chat to your property's website:
It's too important to ignore.
Did you know that 38% of consumers are more likely to buy from a company that offers live chat support? (Source). This number will likely only increase over the coming years as people become more connected, and more properties embrace this way of connecting with their guests.
Build confidence and help your visitors make decisions.
With instant messaging, you are able to answer questions and address concerns your website visitors may have while browsing. This could be the difference between someone leaving your site, or sticking around.
Increase Direct Bookings.
Conversations with your website visitors do not have to end at offering advice or answering questions – they could lead to more business! It's an opportunity to promote specials and direct visitors to NightsBridge to book.
Get to know your guests.
Questions that website visitors ask can be used to improve the content of your website and spark new ideas for marketing activities at your property.
Not sure where to start? Springnest includes simple WhatsApp and Facebook Messenger widgets in all of their website and hosting plans. Speak to them about getting started.
Things to consider before adding Instant messaging or Live Chat to your website:
While the benefits of instant messaging are clear, it can also be frustrating or even harmful if you're not ready for it. Here are two important things to consider before adding it to your website:
Time and Availability.
Instant Messaging should improve your communication with your website visitors, not complicate it. Make sure that you have the time and availability to respond to messages in a reasonable timeframe, and only consider live chat if you know you can be online for a least a couple of hours a day. If this sounds daunting, a combination of messaging and a chatbot will be the best option for you.
Language, style, and etiquette.
Ensure that the relevant people are informed and familiar with the tools you choose to use. Instant Messaging is as real of a communication channel as email or telephone, make sure it is treated in the same manner of professionalism. Decide who's responsible for responding to enquiries, and set clear expectations and guidelines for how it should be done.
Interested to know what's next up in the content series? Look out for the next article where we will be uncovering Search Engine Optimization (how to get your website to show up in Google, when it matters).