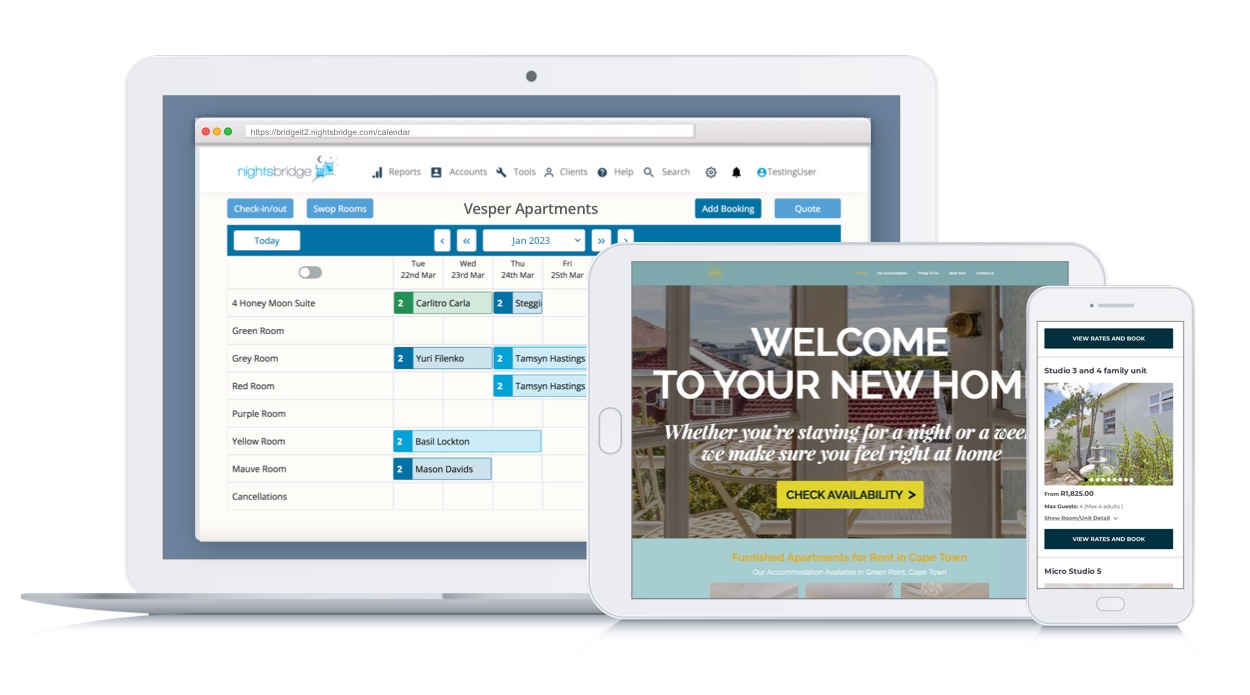 The right tools for the right job.
We understand that an agent managing a group of properties is a full-time job. Even managing one apartment or villa is time consuming and you need the right tools. Leave the technology to us so that you can get on with running the business. Our system provides simple, affordable and practical business tools, supported by outstanding customer service. NightsBridge allows you time to make your guests your number one priority.
BOOK NOW feature
Turn your website into your most profitable sales channel. Get more direct bookings, commission-free, with our world-class booking engine.
Link to Airbnb
Automate your availability updates to the site that's caught everyone's attention. It's ideal for B&B rooms.
Channel manager
Update all your booking channels with one click, from one place. Saves you time, effort & hassle. Connect your availability, rates & specials for easy management.
Become a Concierge
Your guests already consider you to be the local expert. Now you can earn commission by doing what you do anyway. Book activities, car hire and onward accommodation on our handy internal Concierge platform.
Link your own System
Integrate between your apartment's property management system (PMS) and the various NightsBridge features. You'll be ready to take online bookings on the same day.
Mobile app
We know you run around all day! Take your business with you on your smartphone. View arrivals and make, move or cancel bookings on the go.
Multi-property search
Conveniently show rates and availability of all your properties in one easy-to-use search feature. Maximise your revenue and occupancy through saving potential guests time by showcasing all your properties in one place.>
Central reservations
View and update all lodges from one place using the NightsBridge Webview booking calendar. Manage bookings, client information as well as accounts from virtually anywhere.
TripAdvisor Review Express
A free and easy-to-implement service that request essential guest feedback and encourages TripAdvisor Reviews. The service is automated giving you time to focus on other tasks.
Flexible payment options
You decide how you would like your guests to pay. Use EFT, a gateway of your choice, or our in-house system: PayBridge. We make it easy to manage payments at an excellent rate.
Training and support
You can rely on us to be there with advice and assistance when you need it. Free and unlimited telephonic training and support from our professional and helpful call centre, available during business hours and for after-hours emergencies.
With NightsBridge calendar I have never had a double booking. Best booking system.
Star Apartments Cape Town
Properties using NightsBridge across Africa.
Online bookings since 2005.
Affordable, transparent pricing.
Know what you're paying for. No lock-in contracts. Get a world-class product at local prices.
Try NightsBridge today.
Let our friendly team talk you through how we can help your business grow.
Call +27 (0)87 943 6035 or click the button to email us.