Even when funds are tight, a good deal is hard to resist. Especially if it is on something you really want (like a breakaway to anywhere but home). You can turn an interested scroller into a direct booking with a well timed, well placed and attractive special offer.

Why set up special offers?
Research shows that price promotions are one of the most tried and tested marketing methods used to promote brands, encourage repeat visits, boost sales in weak seasons and ensure high-value bookings in the peak. Marketed correctly, it could be an easy way to convert bookings from specific markets. (Get more tips from the South African SME Toolkit here.)
On the NightsBridge booking form any specials that have been set up are displayed in key places at all times. They appear as a rate for available room types, and a separate tab lists future specials (with photographs and descriptions) to encourage forward bookings.
Creating specials that sell.
Your target market should be your focus at all times when you sit down to put together specials. What could you offer that would delight them most? How can you add to their overall experience? Think of different lifestyles or family setups and how your special offer or package can make their stay a cut above the rest.
Put yourself in your guests' shoes.
If you regularly host food lovers you may want to add a voucher to a local eatery to a package. Or for those on a romantic break a welcome basket with sparkling wine will set the tone. Mid-week discounts may encourage corporate bookings, while weekend guests may appreciate a complimentary breakfast or late check-out on Sunday. Brainstorm some ways in which to add free or low-cost experiences to sweeten the deal.
Team up with local suppliers.
Share the marketing costs of specials with a local company who buys into your packages. Offer your little guests free entrance to a local play park, where the adults will most likely support the coffee shop on the premises. Or add a buy-one-get-one-free adventure with a local guide to your package. Wine farms may offer your guests a free wine tasting to get them to the vineyard and sell wine to them when they are there.
Make returning guests feel special.
Around 40% of online sales come from existing customers, and most businesses sink or swim depending on how they encourage repeat business. Why not send all previous guests an email with offers exclusively for returning guests? You already have a relationship and a communication channel to them. Use this to your advantage.
Encourage direct bookings with a discount rate.
Most travellers still book through online travel agents because they believe that's where the best prices are to be found. You can create discounts for direct bookings and let those travellers know that that is not always the case. Add exclusive discounts on your site so that guests can see the savings they will make. Increasing commission-free revenue turns your own booking form into one of your most important distribution channels.


Promoting your specials properly.
Even if you have the most appealing package it won't be of any use if your target market is not aware of it. There are many ways to get your message across:
Highlight specials on your website:
Once a guest decides to make a booking they will most likely head to your website to check availability. Make sure your offers display prominently when they get there to remind them of any deal they can get. Popups or sidebars are a great way to do this. Take a look at how Clermont Auberge and Soweto Backpackers promote their specials on their sites.
Email marketing:
Keep your existing and potential guests up-to-date with current and upcoming specials through an email or newsletter. Your mails should be short, attractive and include a call to action to encourage bookings.
Social media:
If you are active on social media platforms this is a great way to connect with a larger audience. Post about your deals and packages regularly to keep your audience informed.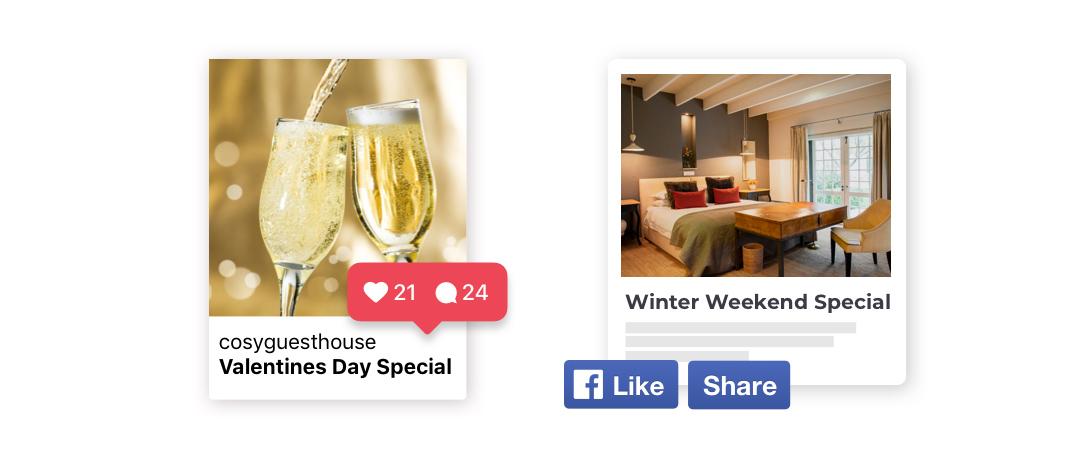 WhatsApp/SMS/Facebook Messenger:
Your potential guests might prefer to hear from you or ask questions through other communication channels they use often. Send your latest special directly to your database of contacts to encourage bookings.
Read more:
Planning promotions, specials & packages
5 Types of Special Offers that will boost bookings