The NightsBridge 'In Your Shoes' project:

We want our new team members to understand what a day in the life of one of our clients is like. The buzz, the million things happening at once. After this experience we find they take away a huge sense of respect for the daily challenges faced, which sticks with them throughout their career. They also get to see NightsBridge in action from the other side of the coin, which helps everyone to understand how important making life easier for our clients is.
I recently got to spend a day with Lauren, manager of the Bluebottle Guesthouse in Muizenberg. I wanted to learn more about what it takes to run a property and what problems Lauren and her team have to deal with every day.
I got to the property early in the morning, right when Lauren was getting ready for work. She had a lot to do, like set up breakfast tables, prepare food, clean rooms, and arrange beds according to guest requests. I helped her with a few of these tasks, and I couldn't believe how busy she was. Guests can also request dinner and get their laundry done at the property, so planning and carrying out all these tasks requires a lot of juggling.
The challenges of running a guesthouse:
Lauren has to deal with more than just the physical requirements of her job. One of the hardest things is when guests don't read through all information before they book, and then complain about how many stairs they have to climb to get to the property (even if it is noted on the property's website). The effort is well worth it, though, because the location is quiet and peaceful, away from the noise of traffic. Plus, even their eldest 92-year-old guest had no trouble getting to the top.
Another challenge is finding time in between their duties to attract more business. Currently most bookings are direct corporate bookings, and they are also linked to corporate channels like Club Travel Corporate, Travel Counsellors, TravelIT and TWF through NightsBridge for this purpose. A lot of bookings also flow through their Booking.com listing. NightsBridge helps to save time here by allowing them to update all their linked channels with one click in their front desk booking system.
Andrew, the owner, actively markets the property on Google Ads, and they find the NightsBridge integration with Google Hotels and NightsBridge booking engine on their website very helpful in securing commission-free direct bookings. On social media the property runs Facebook and Instagram pages.
Bluebottle Guesthouse is also linked to PayBridge, the NightsBridge in-house payment gateway. Because guests can pay online using a secure 3D payment link they are protected from chargebacks for fraud. And the system can also be set up to send a request for the balance of payment on a booking before their guests arrive, saving even more effort from the property's side.
My advice to property owners and managers:
After spending a day in a client's shoes, I'd suggest the following —
Make sure your guests have all the information they need before they arrive.
Don't do manual work when it could be automated. I showed Lauren how to draw some reports on NightsBridge that saves her from writing them all down individually in a book.
Link your social media profiles to your booking engine for direct, commission-free bookings.
Make use of touchless technology. NightsBridge's online check-in and registration forms can collect all the needed information before the guest arrives. And you can make life easy by allowing them to settle their bill from any device before they depart.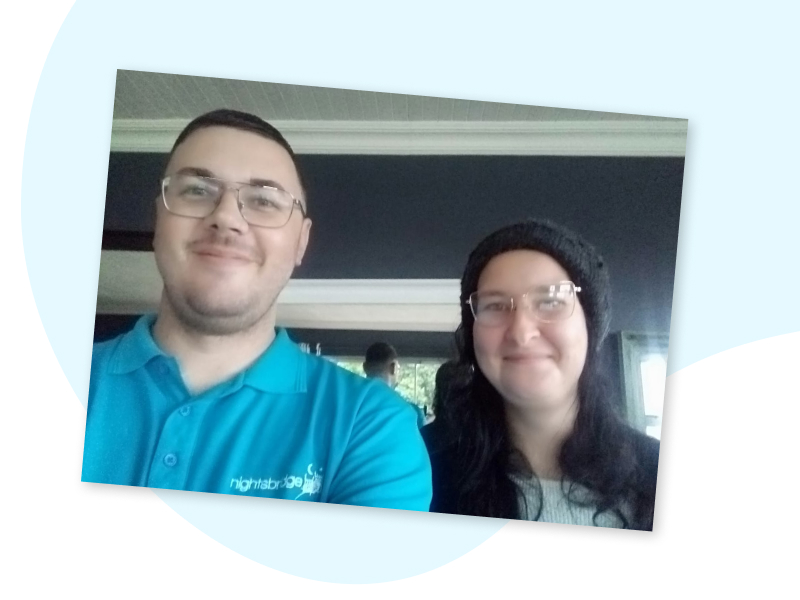 I'm grateful to Lauren and Andrew for giving me the opportunity to spend a day at Bluebottle Guesthouse. And for letting me try out the spinach and feta omelet (a favourite with their guests) for lunch!
It was an eye-opening experience that gave me a new appreciation for the daily efforts of each of our clients.
** Conrad de Villiers is a First Line Support Consultant at NightsBridge.