The NightsBridge 'In Your Shoes' project:
We want our new team members to understand what a day in the life of one of our clients is like. The buzz, the million things happening at once. After this experience we find they take away a huge sense of respect for the daily challenges faced, which sticks with them throughout their career. They also get to see NightsBridge in action from the other side of the coin, which helps everyone to understand how important making life easier for our clients is.
The luxury 4-star Riversong Guest House is built on the banks of the Liesbeek River with stunning views of Table Mountain. I met up with the owner, Inri McManus, who has been in the industry for many years. She manages the property herself with a small team of staff who were kind enough to show me what keeps them busy on a daily basis.
The daily running of a guest house.
Inri starts her day at 6am by preparing breakfast for the guests. Later in the day, she handles the admin, such as answering emails, booking requests, and updating photos on various platforms. Aaron and Gift take care of making beds, cleaning rooms, and assisting with guest inquiries. They also help with general maintenance tasks, such as cleaning the pool and painting.
On the day I spent with them, I managed to chat to some of the guests, help Aaron and Gift tidy up rooms, and wash some dishes after breakfast. I also enjoyed talking to Inri about the industry and her experiences over the 18 years they have been welcoming guests.
I learned that their bookings mostly come from Booking.com and their own website. Eighty percent of their guests are corporate, which increases to 100% during the winter months. This is probably due to their location close to major renewable energy companies. They also have a lot of repeat customers, as they have been in business for 18 years.
Challenges and solutions.
The guest house has faced quite a few challenges over the past few years, especially during the COVID-19 lockdown period when they had to reduce their staff from 7 to just Inri and Aaron.
Recently, they also decided to invest in solar panels and an off-grid energy system, which gives them a competitive edge as their corporate guests are no longer affected by loadshedding. However, this came at the cost of not being able to do other upgrades right away. This made me realize that managing a property is always a balancing act of deciding what to prioritize when.
Inri is part of a group of guest houses in the surrounding area that share information and advice with each other. This is also very beneficial when they want to warn about fraudulent guests. I thought this was a very good idea for properties to work together in order to help each other out.
How NightsBridge makes life easier.
Inri has been using NightsBridge for many years. She especially likes the calendar and reporting features, and the computer is always open and logged in to the property's calendar so the staff can access it at any time and be aware of arrivals and departures.
The time-saving features of the payment gateway PayBridge helps them to send automated reminders to their clients about outstanding balances. Their guests can also check out online and pay through a secure link at their own convenience, and Inri doesn't have to remember to request a review on TripAdvisor after the stay as NightsBridge does it for them.
NightsBridge has made a big difference in the management of the property. It has helped Inri and her team to streamline their operations, save time, and improve efficiency. They are now able to focus on providing their guests with a high-quality experience.
I had a wonderful experience at the Riversong Guest House. The staff were friendly and helpful, the rooms were clean and comfortable, and the location was perfect. I would definitely recommend this property to anyone looking for a relaxing and enjoyable stay in Cape Town.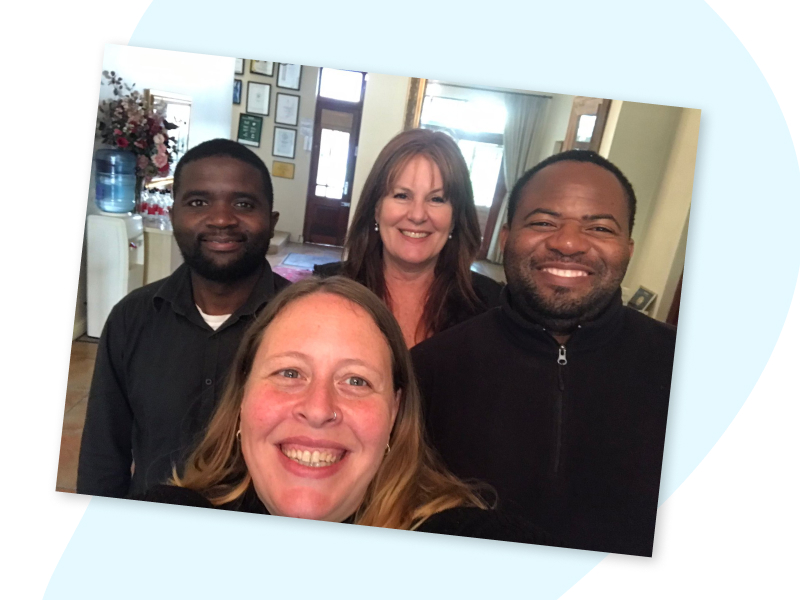 I would also like to thank Inri for taking the time to show me around the property and for sharing her insights into the guest house industry. I learned a lot from her, and I am grateful for the opportunity to have experienced the 'In Your Shoes' project.
** Katie Cowan is a Content Setup Consultant at NightsBridge