Most internet searches start off on Google. So of course it would be great to cash in on any bookings if a potential guest comes across your property in a search result. While this has always been possible (at a price), properties can now have a link straight to their own booking form in Google Hotels search results.

How getting bookings from Google worked before.
To compete for an advertising spot against external channels on Google you previously had to set up, and pay for, Google Ads. On top of that, you also had to pay a commission on the bookings those ads generated. You had to first invest money to possibly make money from bookings down the line.
The game-changer: Google 'All Options'.
In March 2021 Google added a new section to their Google Hotels search result called 'All Options'. This section appears below the traditional paid section ('Featured Options').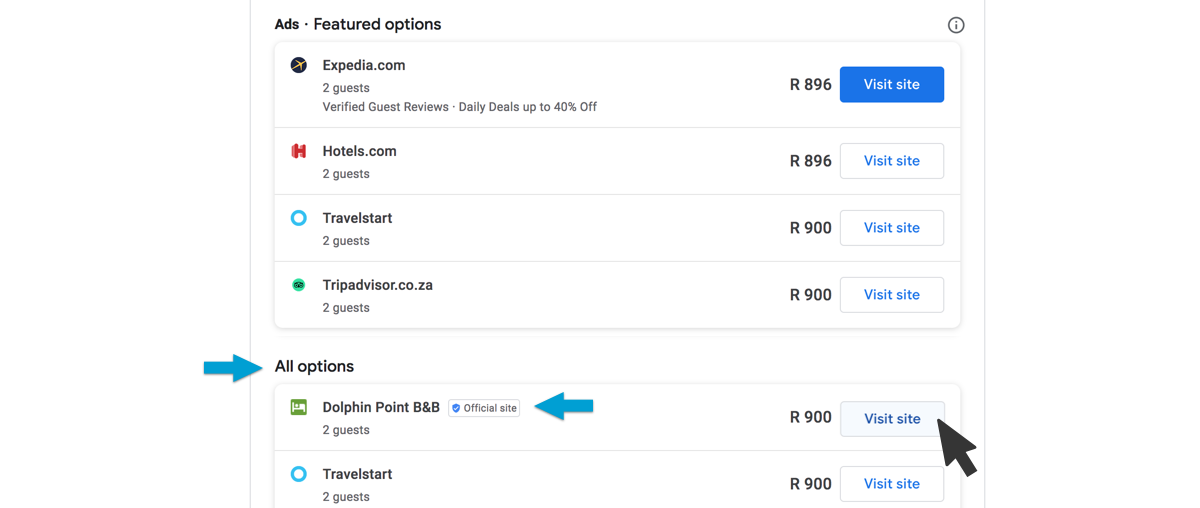 Under the 'All Options' results, properties can have an 'Official Site' listing. When the searcher clicks on the link next to this listing they will be redirected to the property's booking form where they can complete the booking.
For the 'Official Site' listing to appear, properties need to be linked to Google through an authorised integration partner. This is because Google needs access to live availability and rates to list it alongside the other booking options.
NightsBridge realised very early on that this integration could have a positive impact on direct bookings. We started to connect our client data on their request to Google since the first week in April 2021, and made the decision to not charge any integration fee to facilitate this interchange of information.
What are the benefits of the free Google Hotels Booking Link?
By appearing on Google Hotels search results as a booking option you add another line to the water to catch online bookings.
We know that if a potential guest actively searches for a property on Google Hotels they are usually already considering making a booking. Having your rates and availability visible right there, in the search result listing, greatly increases the chances of them clicking through to make that booking directly with you.
For the people that prefer making their bookings directly with a property, the addition of the 'Official Site' badge to the listing helps to identify that link as the right one to choose.
That 'Official Site' option should also appear above the fold on the page (so you don't have to scroll to see it) on most devices, which will also help with click rates.
Who qualifies for a free booking link at this stage?
To qualify for a free Google Hotels Booking link you need to:
Have a verified and updated Google My Business listing —

with a business category other than 'Vacation Rental'

Link your rates and availability to Google through an approved partner. (NightsBridge was one of the first booking engines to offer this exciting feature to our clients).
Vacation rentals (including villas, apartments and vacation homes) are classified as non-hotels on Google, and can therefore not have a Google Hotels booking link. If your property doesn't have a front desk for check-in, permanent on-site management or can't welcome walk-in customers, you are excluded from this feature for the moment. (We'll update you when this changes down the line).
Get started!
NightsBridge clients can request the Google Hotels link through the NightsBridge Links Manager with one click to kick off the process. No integration fee is charged for this feature.
Read more:
Google's Free Hotel Booking Links: What It Means for You
More choice for travellers with free hotel booking links
Sign up for Google My Business
Choosing the correct lodging category
(Remember that Vacation Rentals can't have a free Google Hotels booking link at this stage)