Happy Holidays! It's that time of year when you are expecting guests to stream through your doors. How do you make the most of their visit to benefit your business in the long run as well?
Encourage guests to review.
If you claimed your property page on TripAdvisor, NightsBridge can help you to send out an automated review request. This will ask the guest to review their stay with you.
Hopefully, this will lead to a glowing review. If not, it is also helpful – you now know where to improve and you can do damage control if needed.

Always respond to any negative reviews, and thank guests who offer you an especially glowing review. (If you don't have time to respond to each positive review yourself, choose only the best ones to thank — one in five, if you get many).  Personalise these responses as far as possible.
When replying to a negative review you get the chance to show off your great customer service. The way you deal with the issue is more important than the issue itself. A recent study showed 79% of respondents would be more likely to book if queries or complaints about a property were responded to by an owner or manager.
Small touches go a long way.
Personalise the room if you know the reason for the guest's visit (like champagne for a honeymoon couple or some toys if you have a couple staying with kids).
Chat to them about the reason for their visit, e.g. the graduation ceremony they are attending or ask how the family reunion went. Guests also appreciate if you remember their preferences, like serving hot milk with their coffee every morning.
Get your staff to introduce themselves by their first names, but address the guests by title and surname, even when talking to colleagues.
Work your Social Media options.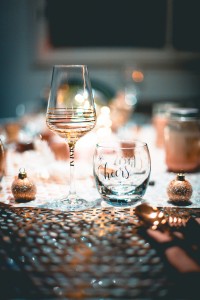 The festive season gives you the ideal opportunity to theme your breakfast room or lounge, or to create a great feature where guests might want to post a selfie.  Encourage sharing using your social media tags.
Make your guests feel like you took the time to cater specifically to them.
This will encourage return visits and recommendations to family or friends.
Photographs: Unsplash.com