Did you know you can get direct bookings (commission-free!) from your Facebook business page? We often get asked if a Facebook page is a must-have, so let's look at ways it can help your business.
Facebook user statistics:


Facebook has been around since 2004. Today, more than 1.66 billion people use Facebook daily to connect and to discover things that matter.
A footprint that builds awareness:
With a Facebook page you have a business footprint on a social networking site focussed on building communities.
If you encourage your guests to check-in to your Facebook page when they arrive, or to review your property when they depart, their whole network of connections now know about your business too.  This is free advertising, and builds great brand awareness because it is seen as a personal referral.
Better customer service:
By using Facebook Messenger, you have your very own customer service portal. Statistics show that most people prefer messaging over emailing or calling. A quick message (and importantly, a quick reply) can speed up the booking process. Read this great blog by Hootsuite explaining the benefits of using the app.
You can update Facebook yourself: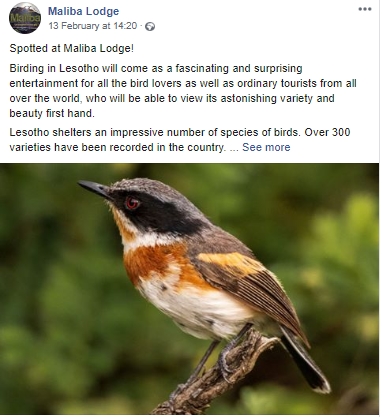 Facebook can be used for marketing, like a compact version of your website. It is easy to update, and by linking your booking form to it, you can get commission-free bookings. You can gather reviews, run contests to get more likes and pay for promoted content and ads to reach a wider audience. No need to first get hold of your web designer for updates.
Cross-post across platforms:
Facebook integrates with a number of social media apps, including Instagram. You can, for instance, add a photograph to Instagram and easily repost it onto Facebook as well.
If your website is set up by Springnest (which we highly recommend!), you can publish your news and offers to your website, mobile site and social media channels, from one place.
Springnest also lets you create website-specific special offers or packages to publish to your site and promote via Facebook and other social media sites. This way, you can reach your clients on the platform they prefer to use.
Convinced? Set your page up now:
The Facebook Help page has full instructions on creating and managing a page.
Get direct (commission-free!) bookings from your page:

Once you have your Facebook page set up, you can link your NightsBridge booking form to it through a call-to-action button.
When people visit your page, they will be able to book their stay there and then. It's a win-win for both parties — the client saves time by having real-time information available, and you save on commission!
Read more: