In a previous blog post, we explained how TikTok can be used in your marketing, and as a direct booking source for your property. NightsBridge clients are starting to explore the possibilities of this new social media platform. And some properties, with websites built by Springnest, can now add a TikTok icon to their websites.
We've researched what these and other establishments have been experimenting with so you can answer the all-important question – 'What should we post on TikTok?'.
The informal approach works best.
The successful brands on TikTok avoid 'hard selling' posts to focus on social interaction. In all of our examples, you'll see that creative, casual videos work best (see this example from Impodimo Game Lodge). You also don't need any expensive or complicated equipment to make your videos — a smartphone will do just fine. So you can get going right after reading this post!
Highlight your unique selling points.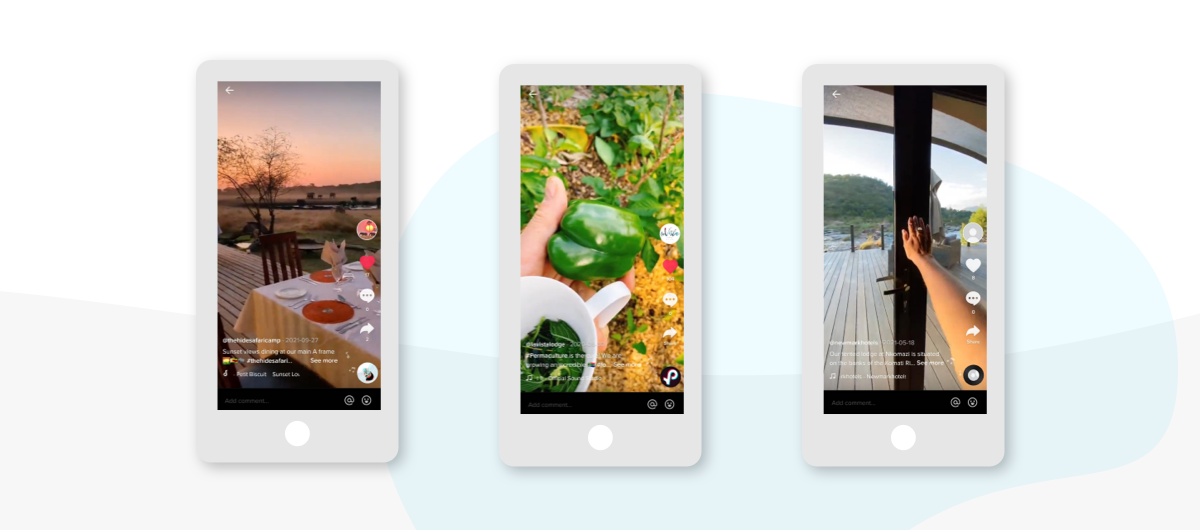 Do guests always comment on your stunning sunset views? Identify the features that sell your property best. Then make a TikTok video about each to drive home the idea that you stand out from your competition down the road. Include walk-throughs of your rooms or amenities too. Or the special lengths you go to to make sure lunch is fresh and organic. You may even want to share the sights and sounds your guest will wake up to in the morning.
Emphasise your local knowledge.
Sell your surroundings. What is there to see and do when a guest stays with you? Think about what appeals to your average guests. Are they adrenaline junkies? Show off some heart-racing activities in your area. Families with children? List something to do with kids close by. Tell potential guests about the Saturday market in your town or simply share why you love living there so much.
Take part in Influencer Marketing.
Some travel influencers are in the market to promote your property to their TikTok followers. They are likely to create engaging content that can be reposted onto your property's social media accounts too.
To get started in the influencer market, follow some influencer accounts to see how they approach projects. Find an account that you feel will cast the best light on your property and get in touch.
Showcase some friendly faces.
Introduce your team in a creative way. Film whoever makes your breakfast in the morning and include a look at some of your offerings. Deep cleaning a room in preparation for an arrival? Show your team going the extra mile. Or offer a sneak peek at some of the hidden talents of staff members ahead of your guests' visit.

Jump on some hashtags (#).
By using a trending hashtag (like #hiddengem for example), you can ensure that your video shows up in the feed of those interested in finding hidden gems or those who search for it specifically.
Or, why not create your own hashtag to use in every post (like #lavistalodge)? Encourage your guests to use it in their user-generated content too. You'd be surprised to find that your business might already be mentioned in a few TikTok posts. Do a search and thank the guest or comment on the video itself to encourage interaction.
Make a list of specific hashtags used by similar accounts. Tags like #SouthAfricanTravel, #TikTokTravel or #TravelSA can be added to every post to give you even more exposure to those who don't follow you as yet.
Repurpose existing videos.
Do you have any marketing videos or other social media videos you've successfully used before? These can be uploaded to TikTok as well. The editing features in the app can help you to apply filters, cut certain parts of the video, add effects or text or even a voiceover to spruce it up.
Put yourself in the user's shoes.
Take some time to brainstorm topics your target audience want to know about, the things they find interesting or problems they might need to solve. This can give you a good foundation on which to build video ideas.
Above all, have fun while making and sharing your videos on TikTok. It's meant to be social, engaging and entertaining. The biggest upside? Marketing your property to millions without investing anything more than a bit of your time.