This month, we're spotlighting inspiring women running successful hospitality businesses. These powerhouse ladies shared their properties' unique offerings, how they got into the industry, the challenges they face as property owners in South Africa, and what today's guests are looking for from an accommodation provider.
These NightsBridge clients show that with passion, grit, and adaptability, you can thrive as a property owner despite obstacles like location, loadshedding, or even a lack of experience. Read on to get inspired by their stories!
Busisiwe Nkosi, Black Horses Lodge, Vryheid
A Touch of Magic in the Country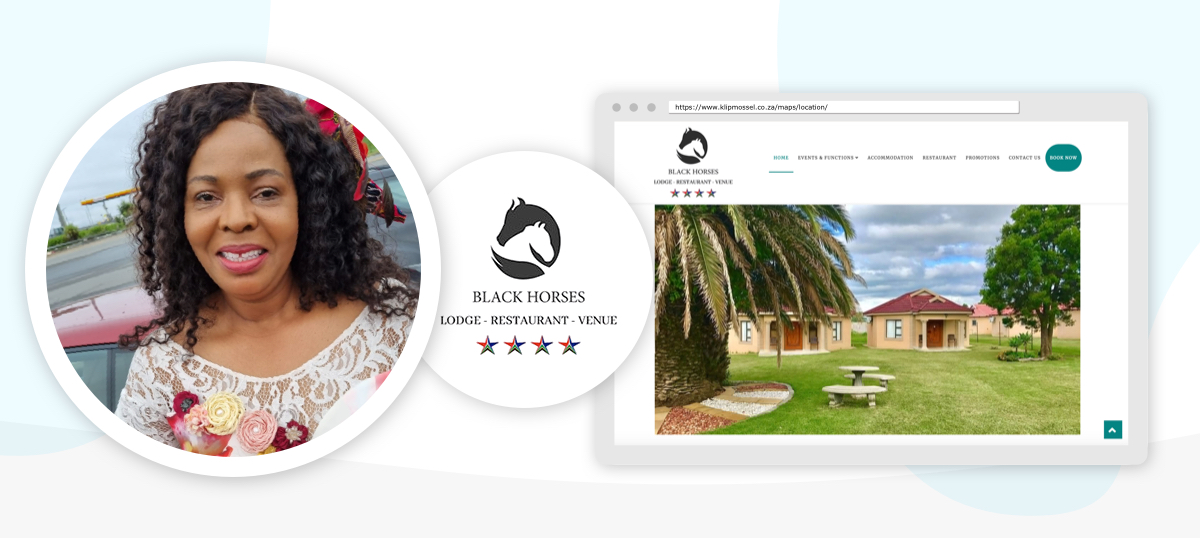 In 2016, Black Horses Lodge began its journey, and by the following year, it had joined forces with NightsBridge. Busisiwe, the owner, saw a need for a spacious wedding venue in the area. Starting with two modest accommodation units, the lodge has gradually expanded to 15 units. And the venue? It comfortably seats up to 500 guests.
What makes your property special?
The name "Black Horses Lodge" has a wonderful backstory. It used to be a breeding farm, and a couple of the original black horses still call it home. Busisiwe knows they add a nice touch for those looking for that country wedding feel. On a more practical note? Beds. Busisiwe invested in the best quality, and she says this paid off – guests always comment on how comfortable they are.
Why hospitality?
Busisiwe "loves hosting" people. She's married her love of hosting events to her primary career as a horticulturist. As a result, Black Horses Lodge boasts a thriving vegetable garden that feeds the catering needs of the property.
Challenges and how you're overcoming them?
Being based out of town is the biggest challenge for the property, so promoting the unique benefits of the venue is a constant focus. Recently, Busisiwe hired a manager who focuses on marketing, which has freed Busisiwe to focus on other sides of the business. This, she says, has been a game changer.
What are guests looking for?
Because the suites served the event venue, it was important that they offered comfort for large groups. The large size of the suites and the high-luxury touches are what set them apart, says Busisiwe.
Lee-Anne Hodson, Vesper Apartments, Cape Town
Bringing Heart and Home to Hospitality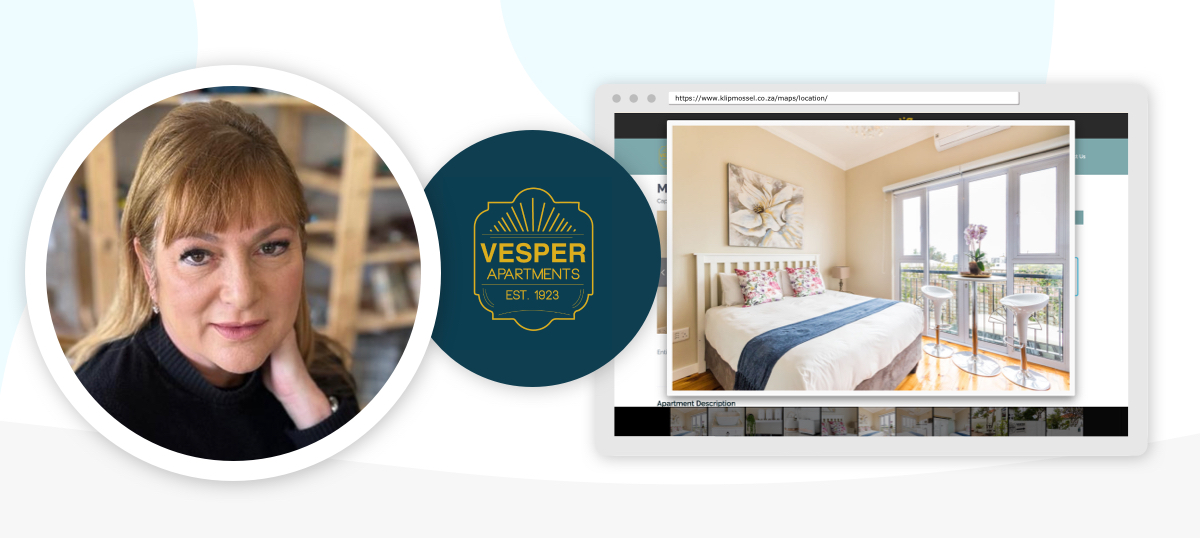 Lee-Anne and her husband converted a dilapidated 90-year-old building in Cape Town into Vesper Apartments' five self-catering holiday apartments in 2017. From skin therapy to hospitality, Lee-Anne adores interacting with guests and is finely tuned to their needs, ensuring that the WiFi never goes down and that, no matter what, there is always good coffee.
What makes your property special?
The beautifully renovated property wows guests with its central Cape Town location, strong, uncapped WiFi, and solar power. Each unique unit offers flexibility for different group sizes and budgets.
Why hospitality?
After 40 years as a skin therapist, Lee-Anne wanted a new challenge. Despite having no hospitality background, she loves interacting with guests and ensuring their comfort. Running Vesper Apartments gives her a sense of purpose without being constantly "on", like in her clinics.
Challenges and how you're overcoming them?
One challenge is ensuring guests are safe as they go about their day, cautioning them without instilling fear. To reduce potential noise issues, Lee-Anne blocks off rooms when groups check in and avoids same-day bookings.
What are guests looking for?
Lee-Anne sees self-catering flexibility as a top trend. Her units' amenities, down to the very small details such as quality coffee and treats, plus giving guests the independence and flexibility they desire, meet this demand. Her property is practically off the grid thanks to solar power. Guests also appreciate the reliably fast WiFi – having no downtime on WiFi is even more important than having the lights on!
Anel Steenkamp, Sixteen Guesthouse on Main, Hermanus
From Teacher to Her Own Boss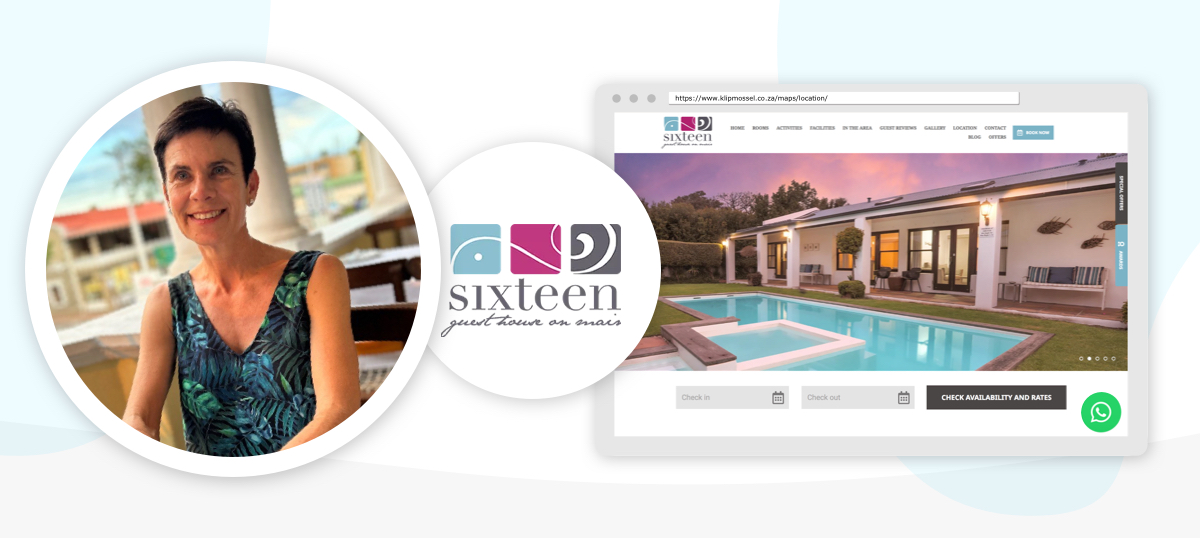 Anel Steenkamp's Sixteen Guesthouse on Main is a prime example of a successful women-owned hospitality business. After 12 years of teaching, Anel bought the five-bedroom guesthouse with a self-catering unit in Hermanus in 2013, having no hospitality experience.
What makes your property special?
Its biggest selling point is the guesthouse's ideal location on the Main Road. Anel gets many compliments on the layout – all the airy, spacious units overlook the pool and garden and have private entrances and en-suites. Her hands-on approach, eye for detail as a perfectionist, and great staff help make Sixteen Guesthouse on Main a smoothly run operation.
Why hospitality?
Anel loves the flexibility and freedom of being her own boss after years ruled by school bells. She enjoys meeting new and interesting people, something her teaching career equipped her well for. Anel now enjoys the ample free time and flexibility of running her own place and finds it fulfilling to see her hard work benefit the business and her sense of success.
What are guests looking for?
In recent years, Anel has noticed fewer commissions from bookings as guests now make direct online bookings. Load shedding is another challenge, but Anel installed an extensive solar system to minimise disruption. Through resourcefulness and adapting to the times, Anel continues to thrive as a hospitality entrepreneur.
Debbie Nortje, Owner & Creator, Treedom Villas & Vardos Enchanted Forest Eco Resort, Wilderness
A Unique Stay in the Heart of Nature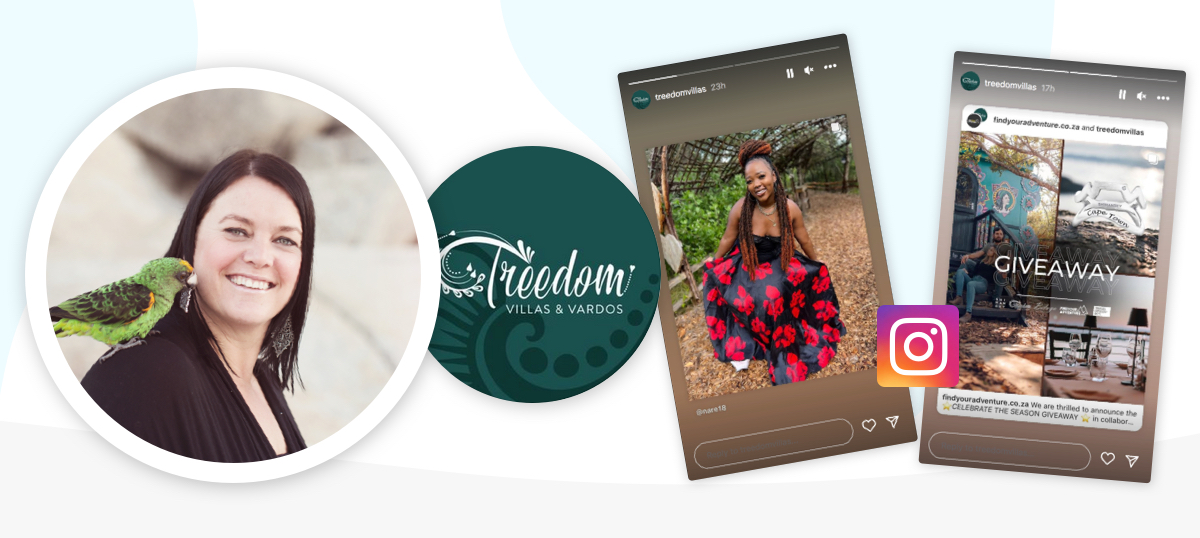 Treedom is a magical example of how creative vision, passion, and grit come together. After two decades in the events industry, Debbie combined her creative talents with her husband Mark's film expertise to transform empty land into Treedom's unique forest retreat.
What makes your property special?
Debbie and her husband built Treedom's unique Vardo wagons and treehouse from scratch. Despite having no hospitality experience and facing obstacles like drawn-out approvals, tricky builds, and COVID delays, Debbie's resilience ensured Treedom became a bespoke escape for guests seeking an intimate, nature-filled adventure.
Each vardo is named and designed around a family story, like "The Owl", inspired by Debbie's mother. The utterly private forest location and bespoke experiences, such as private greenhouse dinners and dinners in the forest, further set Treedom apart.
Why hospitality?
With event and tour experience and a trained culinary qualification, Debbie wanted a new challenge in her 40s. She loves being a "people person" and finds immense joy in creating and sharing these beautiful spaces for people to get away from the rat race.
Challenges and how you're overcoming them?
The four-year municipality approval process was difficult, as was dealing with the banks, who do not make it easy for entrepreneurs, she says. Load shedding is a constant battle, but their generator helps and is essential. COVID struck just five months after their opening, and for 11 months, there was not a cent coming into the business.
What are guests looking for?
Guests want total privacy and customised experiences. Debbie and Mark plan to expand offerings like adventure buggy rides, a full spa, and a pool while retaining Treedom's intimate feel. Hosting micro-weddings and events and offering 420-friendly features also meet guest desires.
To find out how NightsBridge offers an all-in-one solution for property owners and managers, get in touch.