It's our understanding that Level 3, starting on the 1st of June, allows for Business Travel. There will also still be Essential Service workers who will be allowed to travel. And some others, e.g. travelling for a funeral, taking kids back to school or moving children between parents etc.
What you need to host guests.
To host any of the above guests during lockdown, you should have, or apply for, a permission letter from the Ministry of Tourism (example):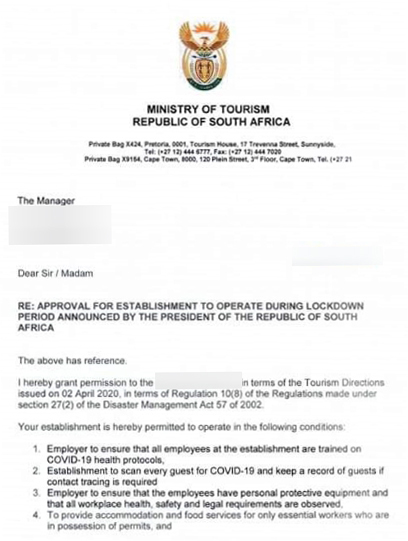 This is not the same as the permit / certificate from Bizportal (CIPC), which is not required in all instances, e.g. sole proprietors or trusts can't get them.
Important: You can only get the permission letter from the Ministry of Tourism once you actually have a booking, as you have to supply details of the people that will be staying at your property.
Steps to apply:
You may apply for this permission letter by emailing Pmasemola@tourism.gov.za or Kmakume@tourism.gov.za.
Include the following on your letterhead:
Names and surnames (ID copies) of the essential workers / guests who seek accommodation
Name of the company seeking accommodation (employer of essential services workers) with contact details or reason for travel (if non-essential workers)
Expected date of check-in and check-out.